Passover Next Door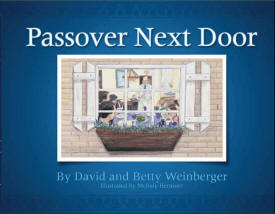 by David and Betty Weinberger; Illustrated by Melody Hemmer
Passover Next Door is a beautifully illustrated read-aloud book about celebrating Passover.
"It's a holiday as old as Moses, and as current as today. So, come join Claire and Cara as they pay a visit next door and discover Passover! Feel the anticipation of the pre-Pesach preparation, the joy of the celebration, and the greatness of God's redemption celebrated in the seder. Learn how the story of Passover points toward the Messiah, Yeshua (Jesus). And enjoy the family's object lessons of Passover that we discover along the way – matzah, charoset, horseradish, ravioli... Wait, did you say ravioli? Well, yes – you'll have to read the story to find out why! Parents and children alike will enjoy this vividly illustrated read-aloud."
This full-color, hardcover picture book is now available, just in time for Passover.
$20, postage paid (see products page).
For quantity discounts and wholesale information, see below.
The Artwork
The paintings by Melody Hemmer are sure to be a delight to young and old...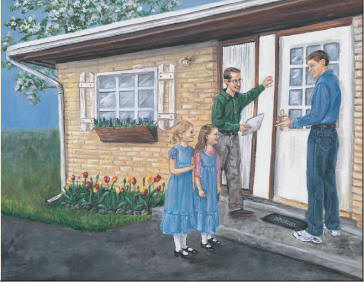 Claire and Cara come to visit their neighbors, and discover a house astir with preparations for Passover...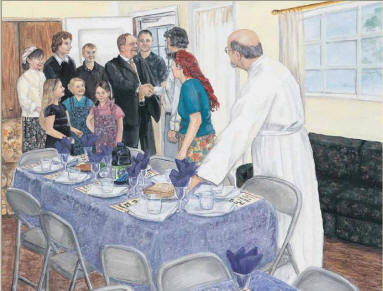 Join the friends as they gather for the Passover seder...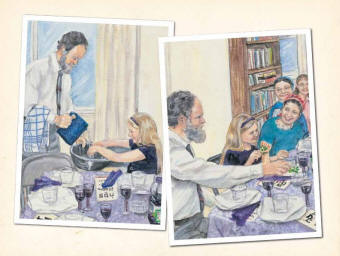 Experience the activities, tastes, smells, object lessons, and even humor...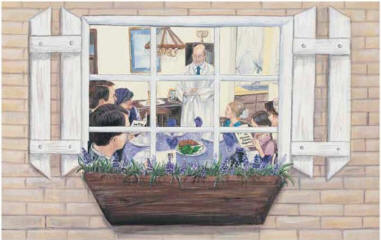 So come on over...for Passover Next Door!
Quantity Discounts
You can order a case of 20 books at the discounted rate of $300. They make great gifts!
Wholesale Orders
Wholesale rates are available. Please contact us directly at messianicfamilypublishers[at]gmail[dot]com, and put "Wholesale order" in the subject line. You can also call us at 708-534-8026.
Donations
The overall cost of this book was significant. We are amazed at all the Lord has provided to bring us to this point. As the Lord leads, would you consider making a donation to support this effort to create high-quality Messianic children's books? Checks can be made payable to Shalom Ministries and designated to the Book Project. This is a tax-exempt donation. Our desire is to produce more quality children's books in the future, and any extra funds received will go toward this project.
All content and illustrations copyrighted.