Products
MFP has published a number of books, described below.
Retail Orders:
Credit card: You can place credit card orders from this website, powered by PayPal's secure ordering. See the product listings below
Check: To order by check, print out our order form, fill in the quantities, and mail it in.
Thanks! (If you have any problems, please contact us at messianicfamilypublishers[at]gmail[dot]com.)
Wholesale Orders: Wholesalers interested in carrying any of our books should contact us directly regarding quantity discounts. Just send us an email at messianicfamilypublishers[at]gmail[dot]com, and put "Wholesale orders" in the subject line.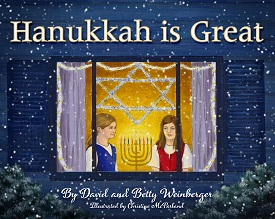 New from MFP...
Hanukkah is Great
by David and Betty Weinberger; Illustrated by Christine McParland
$20.00, postage paid
Hanukkah is Great Endorsements
Hanukkah is Great really is! It's ideal for explaining Hannukah not only to children, but to all of us who may lack understanding of Jewish traditions and holidays. Loved the illustrations.
Jerry McQuay, Senior Pastor, Christian Life Center, Tinley Park, Illinois
Young children will enjoy having their older siblings or parents read this book to them; older children will enjoy the slightly more-sophisticated form of this story book. So few quality books are available to Messianic families - I wish I had this one when my (now adult) children were younger!
Melissa Moskowitz, Jews for Jesus Young Adult Ministry, N.Y.C.
It is great to have children's books we can really use to convey the key stories of our Holidays. This book on Chanukah is especially good.
Dan Juster
Director, Tikkun Ministries, Israel
Description
Hanukkah is great. But why? Anja knows the answer... Catherine doesn't. Anja wants to introduce Catherine to one of her favorite holidays, but it doesn't seem to be working out too well. Will Catherine ever find out the answer? Come join Anja, Catherine, and friends in this beautifully illustrated story of Hanukkah, faith, freedom, and fun! For a look inside, visit the detail page by clicking here.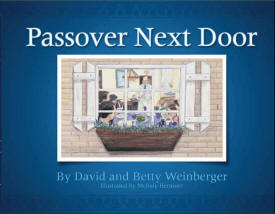 Passover Next Door
by David and Betty Weinberger; Illustrated by Melody Hemmer
$20.00, postage paid
Passover Next Door is a beautifully illustrated read-aloud book about celebrating Passover.
"It's a holiday as old as Moses, and as current as today. So, come join Claire and Cara as they pay a visit next door and discover Passover! Feel the anticipation of the pre-Pesach preparation, the joy of the celebration, and the greatness of God's redemption celebrated in the seder. Learn how the story of Passover points toward the Messiah, Yeshua (Jesus). And enjoy the family's object lessons of Passover that we discover along the way – matzah, charoset, horseradish, ravioli... Wait, did you say ravioli? Well, yes – you'll have to read the story to find out why! Parents and children alike will enjoy this vividly illustrated read-aloud."
This full-color, hardcover picture book is now available, just in time for Passover. For details, click here.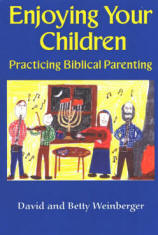 Enjoying Your Children $16.00*
By David and Betty Weinberger
"And thou shalt teach them diligently unto thy children..."
Deuteronomy 6:7

God's way of teaching our children is time intensive. There are no shortcuts, no way to substitute a few minutes of "quality" time to replace "quantity" time. Yet God's way, of being with our children almost all the time, brings out true joy in child-rearing. This autobiographical book tells of one family's experiences in attempting to follow this Deuteronomy 6 pattern.
Temporarily Out of Stock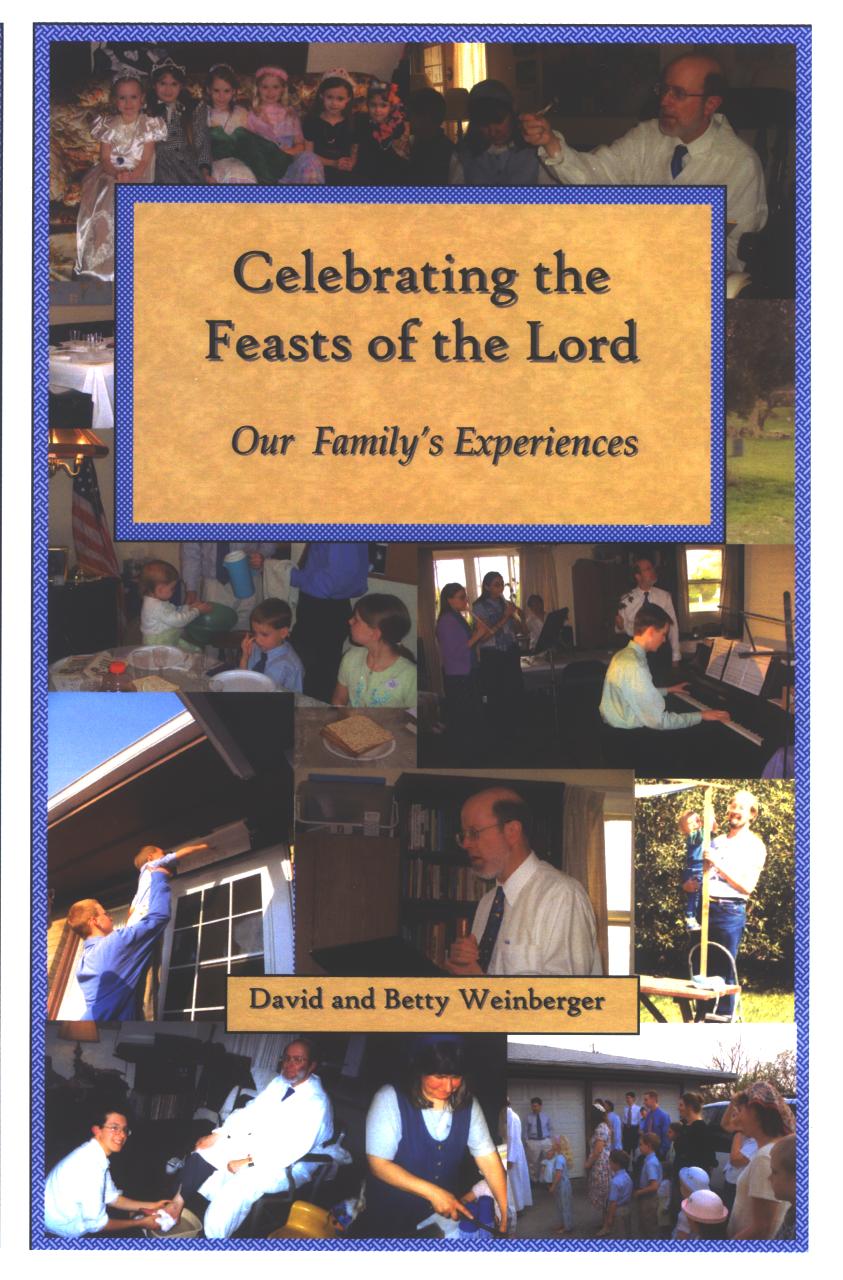 Celebrating the Feasts of the Lord $6.00*
By David and Betty Weinberger
This booklet on the Feasts of the Lord is adapted from the chapter entitled The Feasts of the Lord from our book, Enjoying Your Children: Practicing Biblical Parenting. One very important aspect of Bible-based family life described in this book involved celebrating the feasts. We believe this chapter on the Feasts can also stand by itself and give you insights and ideas into how and why your family can celebrate the Feasts.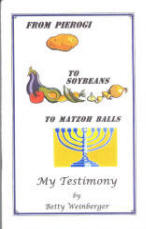 From Pierogi to Soybeans to Matzo Balls $7.00*
by Betty Weinberger
Everyone usually gets a chuckle out of the title. But this isn't a cookbook! It is the true testimony of Betty Weinberger. It tells her journey, first, from growing up in a Polish Catholic neighborhood outside Chicago, to entering the "new age" movement; then, to the true freedom and fulfillment she found when she trusted in Jesus, and her unlikely "discovery" of the Jewish roots of her faith.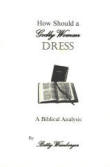 How Should a Godly Woman Dress: A Biblical Analysis $1.00*
by Betty Weinberger
This pamphlet shares thoughts from Scripture about the often neglected topic of modesty.
* Book prices include shipping.